Ground Clamps
Less Heating Unique Feature added displayed below:
All Ground Clamps are designed complying to the quality standard IEC60974-13
There has been a continuous endeavour by Senor design team to make our products more and more superior in terms of technology,performance and aesthetics.
These changes can be distinctly seen in Crocodile range of Ground Clamps and Nevada range of Ground Clamps.We have retained the conventional design products and added the superior technology products in both these ranges.
In the superior tech products Senor we have substaintially brought down heat generation during operation as compared to the conventional design by redesigning such as:
reducing number of junction points in the current circuit within the product and
using integral brass rivet joints to assemble brass jaws with shunt and body instead of using conventional steel bolts and nuts.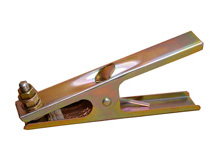 CROCODILE GROUND CLAMPS CONVENTIONAL 'C' SERIES
CROCODILE GROUND CLAMPS CONVENTIONAL 'C' SERIES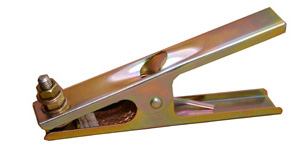 Product Code: C Series Available in White and Bronze Electroplating
Description: Conventional design as also supplied by Indian and Chinese manufacturers with Channel Jaws bolted See Picture 5 with Bolted Channel Jaw


Code
Duty Cycle
A 35%
Duty Cycle
A 60%
Cable Size
mm2
GC-C-150
150
100
16-25
GC-C-200
200
150
25-35
GC-C-300L
300
250
50-70
GC-C-300W
300
250
50-70
GC-C-400
400
300
70-95
GC-C-600
600
500
95-120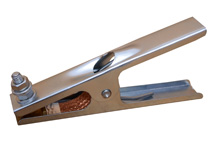 CROCODILE SUPERIOR TECH. GROUND CLAMPS 'CS' SERIES
CROCODILE SUPERIOR TECH. GROUND CLAMPS 'CS' SERIES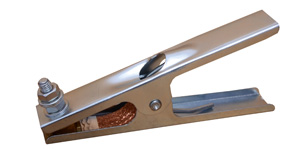 Product Code: CS SERIES Available in White and Bronze Electroplating
Description: Superior Technology manufactured at par with European manufacturers with their Channel Jaws Riveted This offers Superior Performance Superior Look and Superior Engineering See Picture 2 displaying Riveted Jaw


Code
Duty Cycle
A 35%
Duty Cycle
A 60%
Cable Size
mm2
GC-CS-150
150
100
16-25
GC-CS-200
200
150
25-35
GC-CS-300L
300
250
50-70
GC-CS-300W
300
250
50-70
GC-CS-400
400
300
70-95
GC-CS-600
600
500
95-120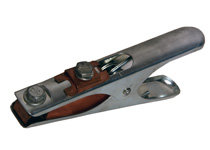 NEVADA GROUND CLAMPS CONVENTIONAL 'N' SERIES
NEVADA GROUND CLAMPS CONVENTIONAL 'N' SERIES
Product Code: N SERIES Available in White and Bronze Electroplating
Description: Conventional design as also supplied by Indian and Chinese manufacturers with Jaws bolted in 200A and 350A Ground Clamps


Code
Duty Cycle
A 35%
Duty Cycle
A 60%
Cable Size
mm2
GC-N-200
200
150
25-35
GC-N-350
350
250
50-70
GC-N-500
500
400
70-95
GC-N-650
600
500
95-120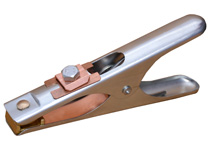 NEVADA SUPERIOR TECH. GROUND CLAMPS 'NS' SERIES
NEVADA SUPERIOR TECH. GROUND CLAMPS 'NS' SERIES
Product Code: NS SERIES Available in White and Bronze Electroplating
Description: Superior Technology manufactured at par with European manufacturers with their Jaws Riveted IN 200A and 350A Ground Clamps This offers Superior Performance Superior Look and Superior Engineering


Code
Duty Cycle
A 35%
Duty Cycle
A 60%
Cable Size
mm2
GC-NS-200
250
200
35-50
GC-NS-350
350
250
50-70
GC-N-500
500
400
70-95
GC-N-650
600
500
95-120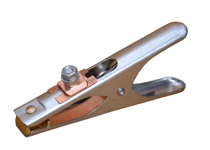 NEVADA EXCLUSIVE GROUND CLAMPS 'NE' SERIES
NEVADA EXCLUSIVE GROUND CLAMPS 'NE' SERIES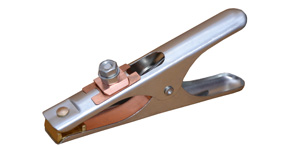 Product Code: NEVADA NE Series Available in White and Bronze Electroplating
Description: NEVADA GROUND CLAMPS WITH EXCLUSIVE DESIGN Ground Clamps is offered with both the options of Bolted Jaws and Riveted Jaws


Code
Duty Cycle
A 35%
Duty Cycle
A 60%
Cable Size
mm2
GC-NE-200
250
200
35-50
GC-NE-350
350
250
50-70
GC-NE-500
500
400
70-95
GC-NE-650
600
500
95-120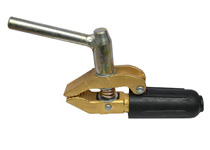 SCREW TYPE DELTA GROUND CLAMPS 'D' SERIES
SCREW TYPE DELTA GROUND CLAMPS 'D' SERIES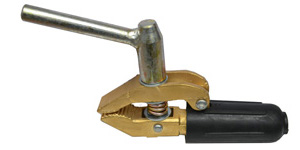 Product Code: DELTA D Series
Description: SCREW TYPE available in 3 Variants


Code
Duty Cycle
A 35%
Duty Cycle
A 60%
Cable Size
mm2
GC-D-600B
600
500
95-120
GC-D-600BS
600
500
95-120
GC-D-600S
600
500
95-120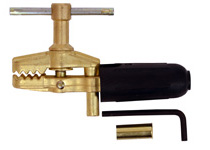 MYKING STYLE ALL BRASS 'M' SERIES
MYKING STYLE ALL BRASS 'M' SERIES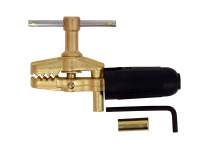 Product Code: M SERIES
Description: HEAVY DUTY ALL BRASS Superb Sturdy and good finish Product


Code
Duty Cycle
A 35%
Duty Cycle
A 60%
Cable Size
mm2
GC-M-600
600
500
95-120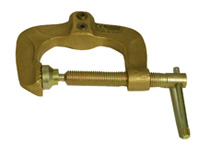 BRASS C TYPE GROUND CLAMPS 'BC' SERIES
BRASS C TYPE GROUND CLAMPS 'BC' SERIES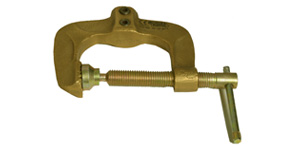 Product Code: BC SERIES
Description: ALL BRASS C CLAMPS


Code
Duty Cycle
A 35%
Duty Cycle
A 60%
Cable Size
mm2
GC-BC-300
300
250
35-50
GC-BC-500
500
400
70-95
GC-BC-600L
500
400
70-95
GC-BC-800
800
600
120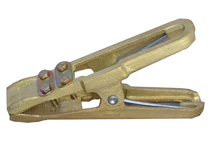 GAMMA STYLE GROUND CLAMPS 'G' SERIES
GAMMA STYLE GROUND CLAMPS 'G' SERIES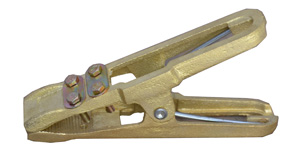 Product Code: G SERIES
Description: HEAVY DUTY ALL BRASS


Code
Duty Cycle
A 35%
Duty Cycle
A 60%
Cable Size
mm2
GC-G-250
200
150
25-35
GC-G-400
400
300
70-95
GC-G-600
600
500
95-120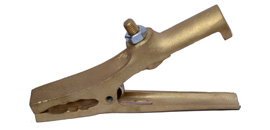 KROKO GROUND CLAMPS 'KK' SERIES
KROKO GROUND CLAMPS 'KK' SERIES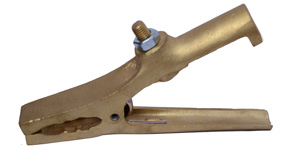 Product Code: KK SERIES
Description: HEAVY DUTY ALL BRASS


Code
Duty Cycle
A 35%
Duty Cycle
A 60%
Cable Size
mm2
GC-KK-250
250
200
35-50
GC-KK-400
400
300
70-95
GC-KK-600
600
500
95-120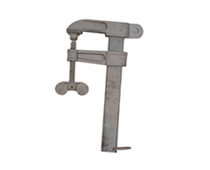 F TYPE GROUND CLAMPS 'FC' SERIES
F TYPE GROUND CLAMPS 'FC' SERIES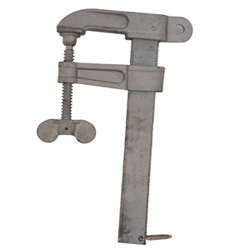 Product Code: FC SERIES
Description: HEAVY DUTY ALL STEEL


Code
Duty Cycle
A 35%
Duty Cycle
A 60%
Cable Size
mm2
GC-FC-400
400
300
70-95
GC-FC-600
600
500
95-120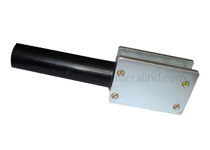 FIXED MAGNETIC GROUND CLAMPS 'FM' SERIES
FIXED MAGNETIC GROUND CLAMPS 'FM' SERIES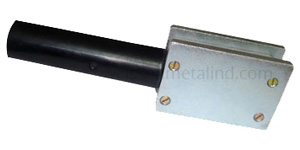 Product Code: FM SERIES
Description: FIXED MAGNETIC CLAMPS


Code
Duty Cycle
A 35%
Duty Cycle
A 60%
Cable Size
mm2
GC-FM-200
200
150
25-35
GC-FM-400
400
300
70-95
GC-FM-600
600
500
95-120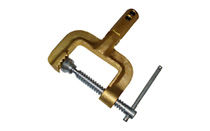 ROTARY GROUND CLAMPS 'RT' SERIES
ROTARY GROUND CLAMPS 'RT' SERIES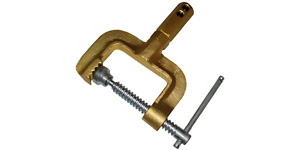 Product Code: RT SERIES
Description: ROTARY GROUND CLAMPS


Code
Duty Cycle
A 35%
Duty Cycle
A 60%
Cable Size
mm2
GC-RT-600
600
500
95-120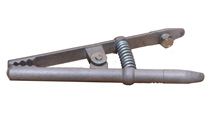 CLIP GROUND CLAMPS 'NB' SERIES
CLIP GROUND CLAMPS 'NB' SERIES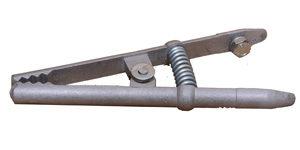 Product Code: NB SERIES
Description: BRAZIL GROUND CLAMPS


Code
Duty Cycle
A 35%
Duty Cycle
A 60%
Cable Size
mm2
GC-NBA-300
500
400
70-95
GC-NBB-500
500
400
70-95
GC-NBS-1000
500
400
70-95
CROCODILE HEAVY DUTY GROUND CLAMPS 'CSHD' SERIES
CROCODILE HEAVY DUTY GROUND CLAMPS 'CSHD' SERIES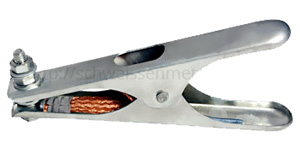 Product Code: CSHD SERIES
Description: CROCODILE SUPERIOR TECHNOLOGY HEAVY DUTY and STURDY with SUPER FINISH


Code
Duty Cycle
A 35%
Duty Cycle
A 60%
Cable Size
mm2
GC-CSHD-200
200
150
25-35
GC-CSHD-300
300
250
50-70